Sayonara superbugs?
04 Apr 2016
In summary:
Pseudomonas aeruginosa is one of the most well-known antibiotic-resistant 'superbugs' and leading causes of hospital-acquired infections
New research by visiting US Fulbright Postgraduate Scholar Jana Soares and UTS's ithree institute is combing infected worms with antibiotics and anti-microbial peptides to kill the bacteria in clinical isolates – strains taken from patient samples or different epidemic strains
Could worms hold the key to combating antibiotic resistance? New research by visiting US Fulbright Postgraduate Scholar Jana Soares and UTS's ithree institute is combining infected worms, antibiotics and antimicrobial peptides to beat one of the leading causes of hospital-acquired infections.
"Scientists," says Jana Soares, "are like children: curious, questioning, pouncing on possibilities and opportunities, thirsty for knowledge and discovery." 
These are certainly characteristics that define Soares herself, not only in her research but in the way she engages with the wider world.
As a visiting scholar in UTS's ithree institute, under the supervision of Associate Professor Cynthia Whitchurch, Soares is investigating novel techniques for combating antibiotic resistance. She's also taking the opportunity of her time in Sydney to explore, document and share her reflections on the culture, cuisine and landscape via her blog, Discovery in the Land Down Under.
Jana Soares on Australia Day 2016
"Working with Cynthia, Lynne Turnbull, James Lazenby and the rest of the group has been an amazing experience all around," she says. "I enjoy getting to know my colleagues over morning and afternoon tea breaks, where our conversations vary from random pop-culture references to the intricacies of our research.
"I'm really excited by the clinical relevance and applications of our research. It has the potential to make a real international impact."
Antibiotic resistance – when bacteria are no longer susceptible to commonly available antibiotics that previously provided effective treatment – is recognised by the World Health Organization as "an increasingly serious threat to global public health". Staphylococcus aureus (Golden staph), Methicillin-resistant staphylococcus aureus (MRSA) and Pseudomonas aeruginosa are some of the most well-known antibiotic-resistant 'superbugs' and leading causes of hospital-acquired infections.
Tackling antibiotic resistant 'superbugs' is one of the key focuses of ithree institute researchers and
Soares' research advances a two-pronged approach to killing P. aeruginosa.
"P. aeruginosa can be highly tolerant of beta-lactams, which is one of the most commonly used antibiotic classes in the world," explains Soares, "and once the bacteria become resistant to antibiotics, it can be very difficult to clear infection."
Jana Soares in front of the Harbour Bridge
Despite P. aeruginosa's tolerance to beta-lactams, previous research from Whitchurch's team has shown the antibiotic does weaken the bacteria, causing its cells to transition from their normal rod shape to a sphere. When it was in this fragile state, the researchers were able to destroy the bacteria by introducing an antimicrobial peptide.
Soares' research builds on this finding. "They did this with a lab strain, and now I'm trying to see if it works using clinical isolates – strains that were taken either from patient samples or from different epidemic strains that occur more naturally in the population."
The young scientist has already replicated the transition from rod-shape to round cell in some of these clinical strains. Her next step is to test if the addition of the antimicrobial peptide will be similarly effective in destroying these strains. 
Soares plans to develop a working model system using a particular nematode (a small worm, about a millimetre in length), which survives on non-pathogenic bacteria in the soil.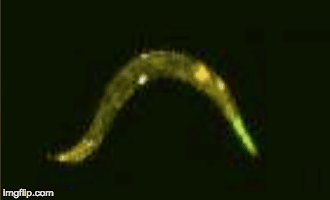 "They'll eat any bacteria," says Soares, "so if you feed them P. aeruginosa they'll develop an infection.
"We're trying to feed them the pathogen and cause them to become sick. Then we'll see if we can clear the infection with the antibiotic and antimicrobial peptide combination before they die."
Soares is keen to see the results of her research translated into practical applications, but with her scholarship at UTS coming to an end in June, the next move she has planned is an unorthodox one.
Rather than continuing to a PhD program, as she initially intended, Soares now hopes to enrol in a master's program in business or entrepreneurship. The reason? Soares wants to be able to answer the questions: "What happens when research is applied? And how do you get it to the public?"
She says, "I would like to join a graduate program that will give me the business background to see how science can be commercialised. I think the research outputs are really important and then I really want to work on how to get it to the public."
Born and raised in New York, Soares completed her undergraduate degree in biology, graduating with a minor in chemistry and from the honours program at St. Edward's University in Texas. "It's a small campus, with only about 3500 undergraduates, so we had a very supportive environment.
"Within the major I chose in sciences, you had a lot of one-on-one time with faculty. I was also able to do an undergraduate research project from the end of first year."
Jana Soares at the Twelve Apostles
Soares conducted three research projects in her time at St. Edward's, both on- and off-campus, focusing on the prevention of cardiovascular disease, food-borne illness and hospital-acquired infections. These research experiences stood her in good stead when she applied for the prestigious Fulbright Postgraduate Scholarship that brought her to UTS.
"I didn't know exactly how competitive I would be coming out of undergraduate," says Soares. "Generally, I was told, for the postgraduate Fulbright they tend to take people who are already in their PhD. And so I felt like, 'Okay maybe I don't have enough background'."
With the support and encouragement of one of her professors, however, she decided to apply and see what happened. Months after the initial application, and assuming she had been unsuccessful, Soares committed to a PhD but received an email from the Fulbright program the next day. She saw the scholarship as an "incredible opportunity" she couldn't turn down.
Since arriving in Australia last July, Soares has seized every opportunity inside and outside the lab to expand her knowledge and share it with others.
In her first month, she joined Toastmasters International, entering a speech competition and progressing through to the area-level competition.
She's gone to numerous festivals, experienced Australia Day by following a checklist of 'typical' celebratory activities and recommendations from colleagues – including listening to Triple J's Hottest 100, eating lamb and picnicking on the beach with friends – visited the Great Barrier Reef, Featherdale Wildlife Park, the Blue Mountains and more, blogging about her adventures. And she's written articles for RiAus – Australia's national science channel.
All-in-all, her time has been spent passionately pursuing the scientific exemplar she describes on her blog: "Fearless experimenters, scientists do not hesitate to test limits, constantly, all to advance the understanding of the world around them and share their findings with others."
This research is funded by: